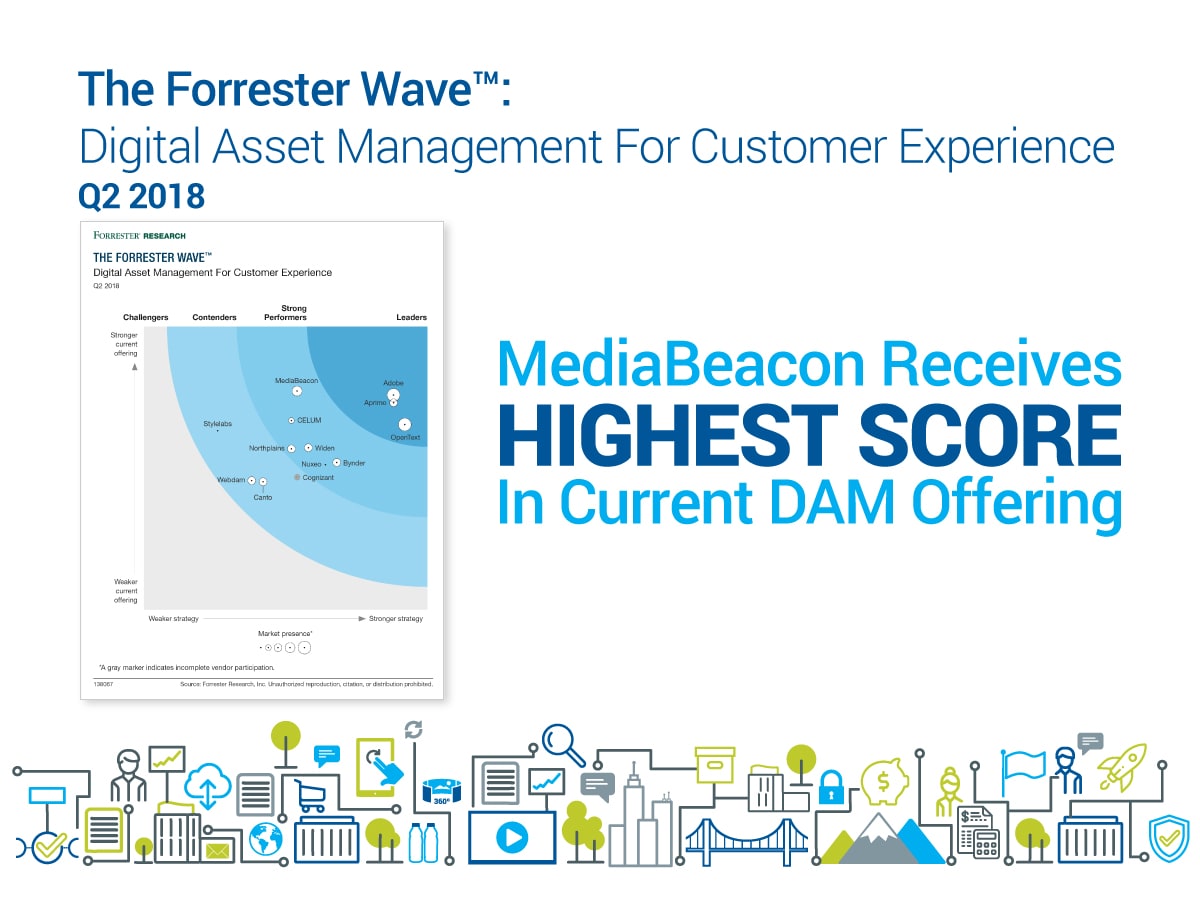 Minneapolis, Minn. (N. America), May 23, 2018 – MediaBeacon received the highest score in the current digital asset management (DAM) offering category in The Forrester Wave™: Digital Asset Management For Customer Experience, Q2 evaluation. Forrester, one of the most influential research and advisory firms in the world, cites MediaBeacon for excelling in functionality, with good search and version control capabilities, and strong commerce and campaign management integrations. Reference clients are delighted by its Adobe and Microsoft integrations. Forrester evaluated the top DAM providers by researching, analyzing, scoring, and compiling the information into a report that includes a graphical Wave with positioning for each of the companies.
"We delivered on a market-driven product roadmap that was largely influenced by our customers and how to make the DAM experience easy for users and valuable for companies," says Tim Sixta, Director of Product Management for MediaBeacon. "We believe that our position on the Forrester Wave reflects this initiative and we're excited for our momentum to keep accelerating as we continue to innovate to meet the needs of a changing market."
The report indicates that scalability and integrations are a top consideration when it comes to DAM. It also points to work in progress, marketing support, and usability as key differentiators in the DAM space. With advanced capabilities, DAM helps companies scale content creation, enable content reuse, and support the development of content for omnichannel delivery.
"We've seen firsthand how DAM can impact the content creation process through digitization and connection to other key technologies in the marketing process," says Tracy Askam, Global Director of Strategic Accounts for MediaBeacon. "It's exciting to be able to offer this kind of digital sophistication with our product."
MediaBeacon received among the highest scores in the usability and user interface, and enterprise platform integration criteria. In addition, MediaBeacon received its highest scores from the evaluation in the work-in-progress assets, video and emerging content support, and library services categories. The comprehensive scoring process positioned MediaBeacon as a strong performer on the Wave with the highest score in current offering.
MediaBeacon gathered input from current customers and DAM users to help focus on performance with purpose in their latest release. The result is an intuitive interface with industry-leading functionality, highly beneficial integrations, ease of new user adoption, and value-adding tools.
"Our engineering team has done a fantastic job turning customer insight into reality and we are continuing to generate growth in key areas of our product," says Sixta. "We're confident that our DAM has the strongest functionality in the market and is best positioned to meet the future needs of our customers."
MediaBeacon is part of Esko, a global leader of integrated solutions for the packaging, labels, sign, and display industries. Since joining Esko in 2015, MediaBeacon has concentrated on strengthening their product with a focus on the customer.
"We're thrilled the results of the report reflect, in our opinion, the effort that we have put into developing a product that delights our customers," says Philippe Adam, VP Marketing and Strategy at Esko. "We will continue to empower our customers with solutions that meet their needs and influence the future of DAM."
About MediaBeacon
For nearly thirty years, MediaBeacon has been committed to delivering best-in-class digital and marketing asset management. Through partnership with our customers, we empower them to deliver their vision globally from concept to consumer. Our digital and marketing asset management solution enables this through powerful workflows, best-in-class asset management, and analytics for both digital and physical assets.
As part of Esko, a member of Danaher's Product Identification (PID) Platform, we have the solution and the team to help you create, manage, publish, and analyze your assets. We are passionate about our team, who realizes that our customer's success is our success.
For more information, visit www.mediabeacon.com or contact:
(North America) Julian Salazar, Director of Marketing, (612) 805-0644, Julian.salazar@mediabeacon.com
(EMEA) Bart Lammertyn, EMEA Business Manager, +32 492 46 40 17, bart.lammertyn@mediabeacon.com