March 22, 2018 by Maria Jollie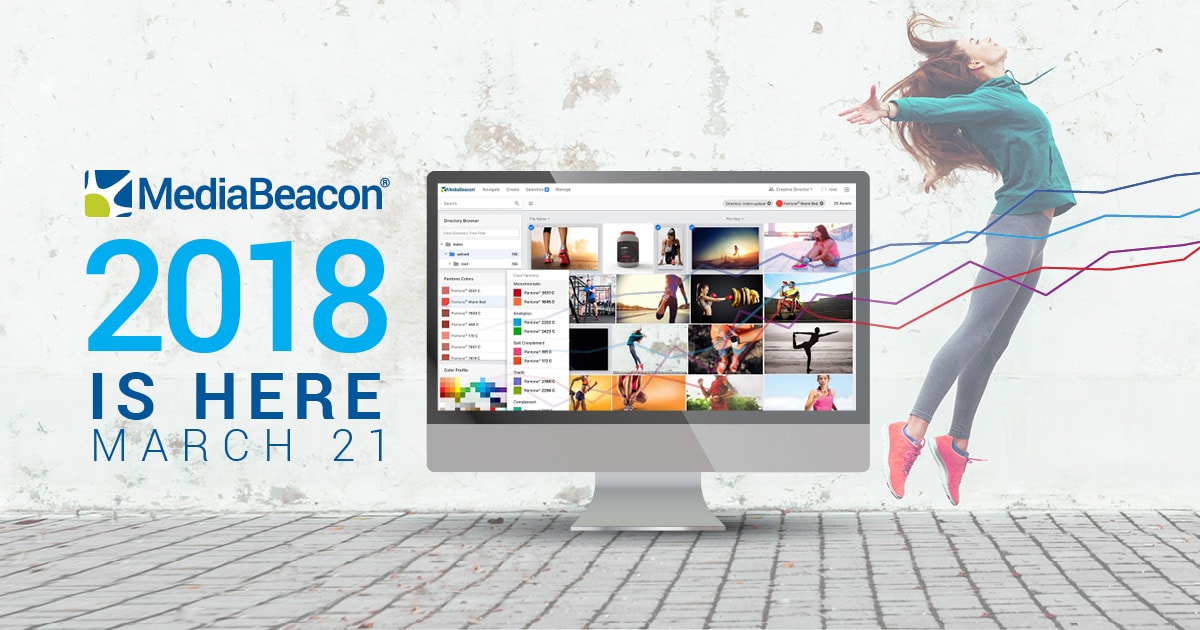 We've got big news! We're introducing our most ambitious release yet: MediaBeacon 2018. We've reimagined and redesigned the solution to bring you the most intuitive interface with the most effective functionality. We pulled out all the stops for this one! Check out some of the changes.
Our Newest Integrations
We've established some advanced partnerships and integrations for 2018 so that MediaBeacon is equipped for extreme capability. Get ready to leverage artificial intelligence, digital rights management, templates, video, and PANTONE® like you never have before. These elements are designed to help accelerate digital maturity for enterprise companies. We're excited to introduce you to our newest features that are helping us revolutionize DAM!
Artificial Intelligence
Clarifai brings the momentum of artificial intelligence (AI) to MediaBeacon. The tool predicts and automatically generates keywords for your digital images and videos. Keywords and values can be removed, added, and rated to help train the DAM to learn what's important to your users. Now, your team can have more time to focus on creativity when they delegate asset tagging to AI.
Having this powerful transparency into the rights of your digital content has the potential to also save time and money by avoiding any potential legal action that results from using digital content in the incorrect way.
Digital Rights Management
We've upgraded our digital rights management (DRM) capabilities with Rights Cloud™ by FADEL® to give you total control of your assets. Now, you can assign rights information to assets so your users can filter by region, distribution channel, and timing to understand if an asset is available for use and request special access to assets, if necessary.
Video Distribution and Analytics
Our integration with Brightcove has amped up our video capabilities! With MediaBeacon 2018, you can store video assets in MediaBeacon, push content directly to social media, ecommerce, and other digital platforms. Cue points can be created in the videos to reference, search, or insert advertisements. You can also view metrics to understand how your videos are being used and performing. Dashboard provides metrics for video views, top trending videos, recently created videos, recently updated videos, and video views by device type and country.
PANTONE® Color Search and Harmonies
We've been working closely with our sister company Pantone to bring you the best in color technology. Now, you can search and filter on Pantone Color in MediaBeacon. The integration also provides a tool so you can see what colors harmonize with your selected Pantone color based on monochromatic, analogous, split complement, complement, and triadic color schemes.
Adobe Connector Integration
We know creatives thrive on Adobe. That's why we're so excited to show you our Adobe connector! Now, your creatives can search for and download images from MediaBeacon while they are in Illustrator and Photoshop. They can easily save new versions with comments directly back to the DAM, all without needing to open MediaBeacon. Now, your creatives can focus more on the creating, and less on the searching.
User Interface Update
We've redesigned, reengineered, and reimagined the MediaBeacon user interface (UI) to bring together familiar interaction concepts and visual elements from common B2C products for a user experience that is natural, intuitive, and transparent. Leveraging the latest browser technology, our UI builds upon a responsive framework delivering a fast, consistent, and intuitive experience.
Now, your users can enjoy a highly customizable and configurable UI to create workspaces, themes, styles, and branding that work the best for them. We built on Google's material design framework to unobtrusively inform the user of different actions, changes in state, or errors they might run into through "toaster" style notifications, similar to the ones found throughout Google's products. We even included a searchable Help feature.
Admin Interface Update
We've dreamt up an admin interface that's worth all the hype, and then turned it into a reality. We're talking drastic improvements to search capability so you can find what you need more easily than ever. We also focused on making it easier for admins to manage users, fields, forms, and groups. We have an entire engineering and UX team that worked long and hard to come up with an interface that is intuitive for admins.
APIs
APIs help MediaBeacon connect to your other systems and harmonize your processes. We're happy to inform you that we have upgraded our APIs to help improve the overall efficiency of your connected ecosystem.
REST API Version 2
Introducing REST API version 2! It's new and improved with the ability to write data to a data-block field over the setFIELD REST API so you can get all the data you need with a single call.
Visual Workflow
We've updated our visual workflow API to make it even more functional. Now, you can easily choose folders to use without needing a string, and use the output from a visual workflow REST node as the input for another node. You can also format your emails in the send notification node to make them a branded part of your asset management. We've also added extra measure to improve performance, like validating configured nodes when saving a visual workflow.
Workflow
We know how important workflows are, so we made some changes that we think you're going to love. Our expanded filtering options make your workflows easier to find and organize. With our email upgrades, you can now configure scheduled emails that contain summaries of changes made to assets, and trigger an email notification when an asset is downloaded. We've also added methods to delete groups, get SOLR addresses, and added a feature that visually indicates when workflows are disabled.
Technical Improvements
We've made some technical improvements to make sure you're getting the best performance possible from MediaBeacon and our partners.
Upgraded version of search engine.
Upgraded preview libraries.
Upgraded SSO library.
Removed JSP technology.
Added HTTPS support to interprocess communication.
Added HTTPS support to search engine.
MediaBeacon brings your digital assets and marketing teams together under one simple, familiar, and secure hub. Now, everybody can focus on bringing that Big Idea to life: On time, On budget, On point.
Learn More
This is just a brief overview of what we're bringing to you with MediaBeacon 2018! To learn more, contact us!